Message From Vice President (HR)
Mr. Rohit M. Navale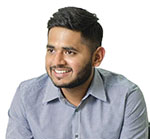 A young mind knows no barrier.
The power of India lies in the power of youth. We are a nation of young Turks. A young population which is breaking the bounds set by the previous generation. Almost kids who are starting companies which have enviable equity. If we sit back and think how it has become so real, the answer is, we live in a knowledge society.
Knowledge today rules over every other distinction. Experience is making way for brilliance. Tradition is getting trumped over by innovation. One of the catalysts for such a change has been institutes like us. Sinhgad Institutes believes in the miracle that a young mind is. We are empowering the gen-next as leaders, both within our faculty and amongst learners.
Creating an environment that is pro-youth and is potent with freedom, we are helping build the next generation of leaders. If you come to our tech-fest, or Karandak, or are an audience to any of the thousands of activities at our campuses, you would see a young vibrant India forming in the ranks.
While at Sinhgad, never are you shy of expressing yourself. Never would you think of a youthful folly, for in innocent minds lies the creative fountain that is responsible for the most extraordinary ideas.
I urge you all to experience the magic of youth at Sinhgad. Walk with us for we are forever young, age does not impede our learning. We keep our cups empty for the potion of knowledge to be filled again and again.
All barriers shall fall away when the brightness of youth comes to work!
Resourcefully yours
Mr. Rohit M. Navale
V.P. HR, Sinhgad Institutes