Message From Vice President (Admin)
Mrs. Rachana Navale-Ashtekar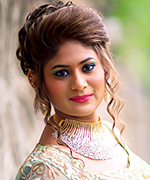 Some tools shape our destiny.
Passion, expertise, excellence and humility are the hallmarks at Sinhgad Institutes. When you walk through our campuses, at times you would be awed by the sheer energy around you. We take every possible step to continuously outdo ourselves. With some of the best facilities that you have ever experienced in any institution, we just keep moving forward.
Learning deserves a befitting environment. Self contained campuses, at the seat of nature, technology and wisdom having a silent interaction, cultures mingling without semantics, life essaying the king's course. All that you experience when you are here, with us.
We reserve some special favors for the women in our campus. Safety, dignity and opportunity. It deserves a special mention as many educational institutes today do not value this simple basic. Our society grows as far as our leading ladies.
Education is the light, education is the way. It is the tool that alters the path of our lives. At Sinhgad, we hand you this tool with all the accessories. Learning here is not just fun, it is a life-changing experience.
Remember, few choose to walk the road to greatness.
Sincerely
Mrs. Rachana Navale-Ashtekar
V.P. Admin, Sinhgad Institutes