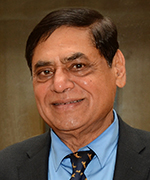 Prof. M. N. Navale
Founder, President, Sinhgad Institutes.
ME (Elect.), MIE (I), MBA,
At Sinhgad Institutes, as a premier teaching institute, it is our endeavour to encourage students in pursuit of knowledge that brings about complete, overall development as an individual.
For near about twenty years, Sinhgad Institutes has distinguished itself as Pune's icon, as an institute renowned for outstanding students, professors and alumni, for achievement in teaching and research, and for its distinctive character and reach.
We realize that in today's world, it is more vital than ever before that students graduate with an education that will prepare them for life-long learning and global citizenship.
At Sinhgad Institutes, we make every effort to be a learner centred educational institution which recognizes that our students are purposeful and driven, bringing with them their own experiences into the learning process and are offered an opportunity to engage with their educators in knowledge production. An open attitude to reality, ready to receive, ready to engage and able to mould, create and transform, is what we Sinhgad Institutes is known for.
I welcome you to Sinhgad Institutes community and to new and challenging stage in your educational career.