Stallion Aero of Sinhgad Institutes emerged winners at National Aero Design Competition at Chennai
---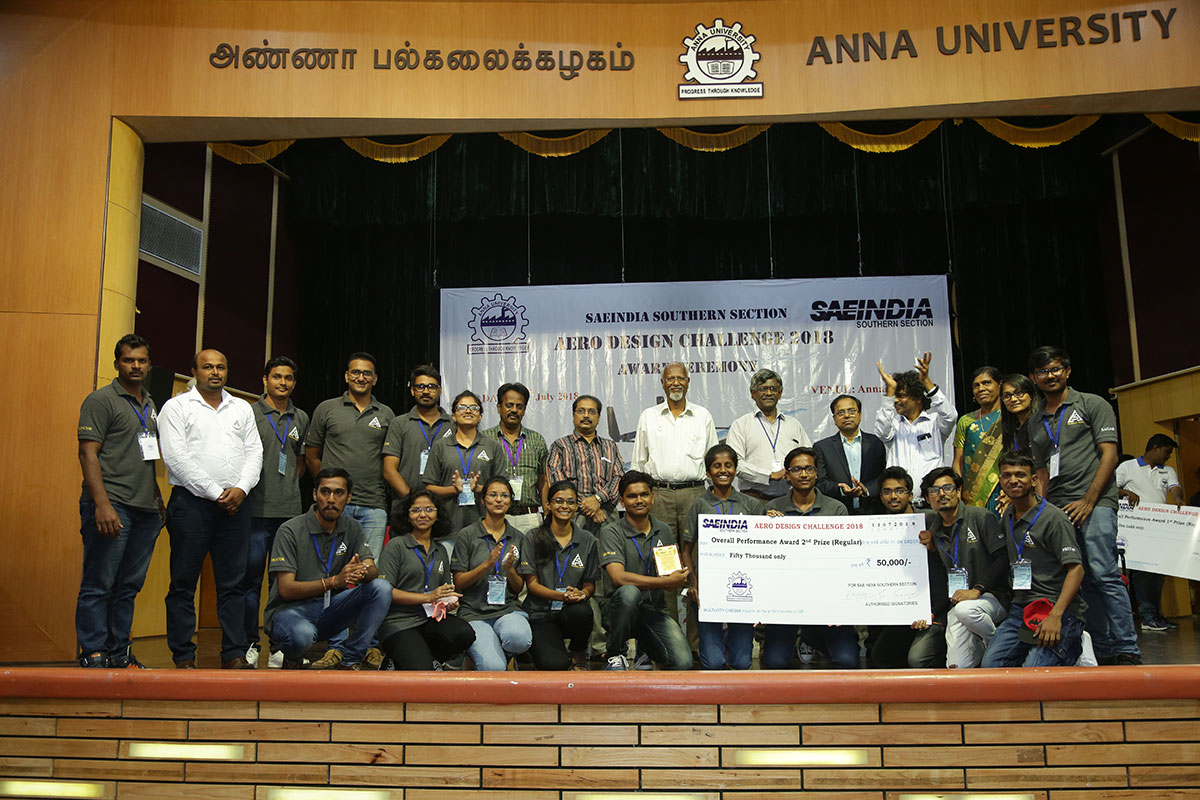 Stallion Aero of Sinhgad Institutes emerged winners at National Aero Design Competition at Chennai

Team "Stallion Aero" comprising two groups of students from Pune based Sinhgad Technical Education Society's, Smt. Kashibai Navale College of Engineering emerged as winners in the National Aero Design Competition held in Chennai. SAE India Southern Section organized the prestigious SAEISS Aero Design Challenge 2018 for students of engineering colleges from all over India. The competition was held at Anna University, Chennai from July 11 to July 13, 2018. Around 110 teams and 770 students took part in three day event for designing and developing UAVs such as drones, miniature helicopters and gliders in move towards identifying talented students to carry out design development, manufacture and flight test UAVs. Anna University and Society of Automotive Engineers India Southern Section (SAEISS) conducted this challenge where engineering students demonstrated their models along with their technical presentation to prove their design capabilities.

The competition is intended to provide undergraduate and graduate engineering students with a real-life engineering challenge. It has been designed to provide exposure to the kinds of situations that engineers face in their real-life work environment. Each team is required to conceive, design and develop a prototype of fixed wing UAV meeting the mission requirements.

SAEISS Aero Design features two classes of competition – Regular and Micro. Regular Class continues to be the class with the purpose to develop the fundamental understanding of flight and the goal is to lift as much payload as possible. Micro Class teams are required to make trades between two potentially conflicting requirements, carrying the highest payload fraction possible, while simultaneously pursuing the lowest empty weight possible. The Competition also provides multiple opportunities for teams from all over India to showcase the extraordinary talents of engineering students while encouraging them to develop innovative ideas towards development of improved systems for UAVs.

Team Stallion Aero of the Engineering students of Sinhgad Institutes competed in the Regular Class and Micro Class. In the Regular Class they competed with aircraft named 'Chetak' and in the micro class they competed with aircraft named 'Rudra'. The weight of the 'Micro Level' category is up to 2.5 Kg and the regular category is above 2.5 Kg and less than 5 Kg.

The Regular Class aircraft "Chetak 1.0" won 2nd overall prize worth Rs 50,000 and Micro Class Aircraft "Rudra 1.0" won 3rd overall prize. They also won prize in technical presentation worth Rs 25,000 in both teams' debut competition.

Valedictory Ceremony concluded with prize distributions in the presence of Anna University Registrar S. Ganesan, SAE-ISS Chairman and TAFE Vice President S. Sriraman.

Rohit Navale Vice President of Sinhgad Institutes congratulated the students and the mentor faculty members for emerging victorious at this prestigious aero design competition. He lauded their efforts with a special mention noting the professionalism and competitive spirit which they showcased during the competition.