TECHNO EVOLUTION 2K13
Civil Department (15th-16th February 2013)
Events At-a-Glance
Technical Events:
Bridge Mania [Bridge Making using Candy Sticks]
Cube-it [Concrete Block Making]
Town Planning
Civil CAD
Theodo-20 [Surveying ]
Bob- The Builder [Remote controlled J.C.B. and Dumper game]
Structure Hunt
Jenga-La La [Jenga]
Angry Birds- Live
Building Blocks
Ex-Quiz-ite [General Knowledge Quiz]
---
The Team

Staff Incharge
Prof. N.N. Deo
Student Incharge
Pranav Gurav
Financial Head
Aditya Gade
Discipline Head
Sagar Badhe
Campaigning Head
Jui Patankar
Decoration Head
Mohini Surve
No. of Volunteers
80
Number of Participants

Event Name
No. of paricipants
Bridge Mania
18
Cube-it
2
Town Planning
6
Civil CAD
17
Theodo-20
8
Table Tennis
42
Bob- The Builder
25
Structure Hunt
13
Jenga-La La
23
Angry Birds- Live
54
Building Blocks
17
Ex-Quiz-ite
19
---
Inauguration at the hands of Hon'ble Founder President Prof. M.N. Navale Sir.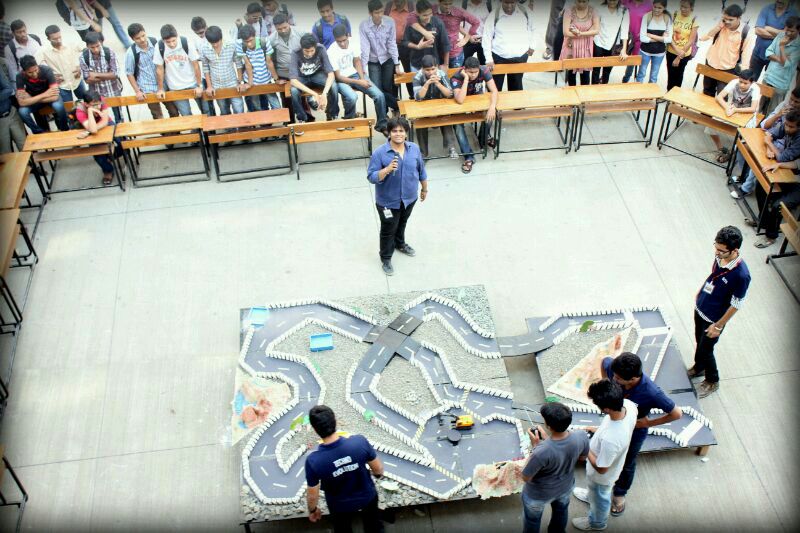 Bob- The Builder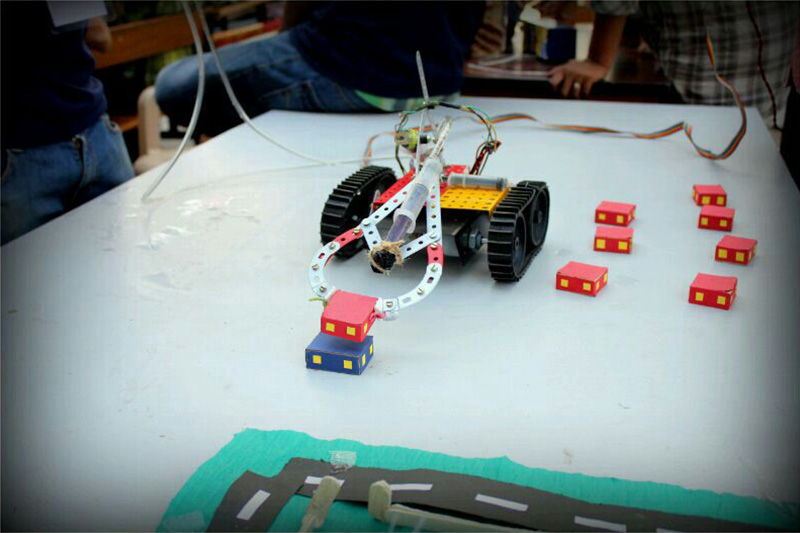 Building Blocks
---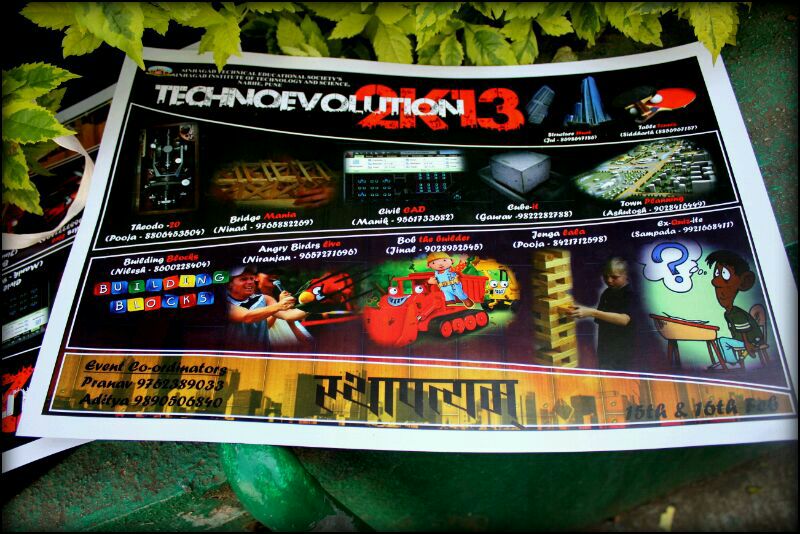 TECHNO EVOLUTION 2K13 Poster
Civil CAD
Collage
TECHNO EVOLUTION 2K13
Computer Department (15th-16th February 2013)
The Techno Evolution 2K13 event took place on Friday, 15th & Saturday 16th Feb 2013 at Computer Engineering Department. In this we organized Technical as well as Non Technical events for students.

The event was attended by students from different colleges. These two days offered an opportunity for student to explore their technical /nontechnical knowledge & talent.
The Team

Staff Coorinator
Prof. A.R.Kamble
Student Coorinator
Akshay Yewale
H.O.D.
Prof. G.S.Navale
Number of Participants

Event Name
No. of Paricipants
ROBOMIX workshop
65
Project X
6
Mock Placement
91
Build Ur App
8
Code Runner
37
Line Hunter
7
Checkmate
108
Snap Hunt
49
Pocket Tanks
47
Most Wanted
85
Angry Birds
53
Mad ADS
6
Mad ADS
6
Striker
80
TECHNO EVOLUTION 2K13
Electronics & Telecommunication Department (15th-16th February 2013)
Inauguration of the Symposium Inauguration by
Principal, Dr. S.N. Mali
Chief Guest Mr. R.L. Kalyankar
---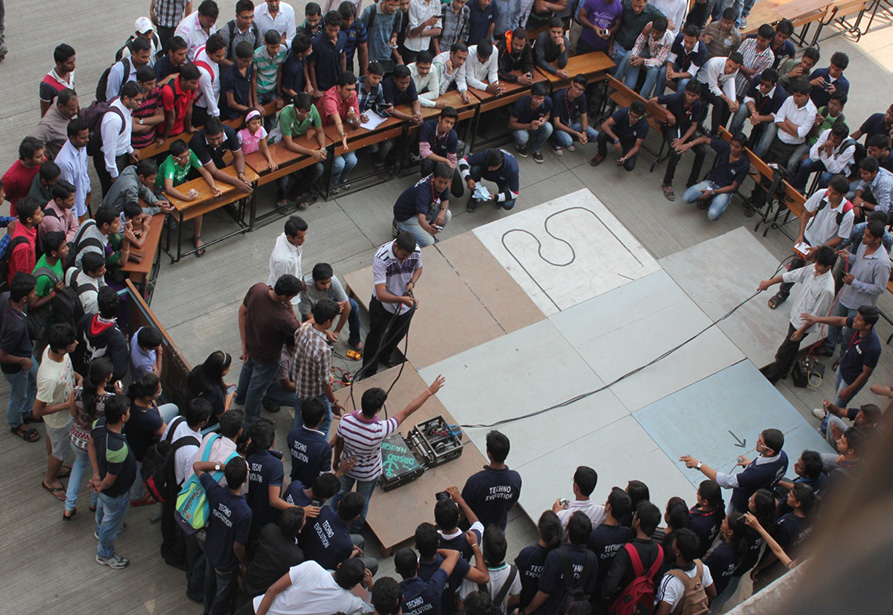 Participants & Spectators
---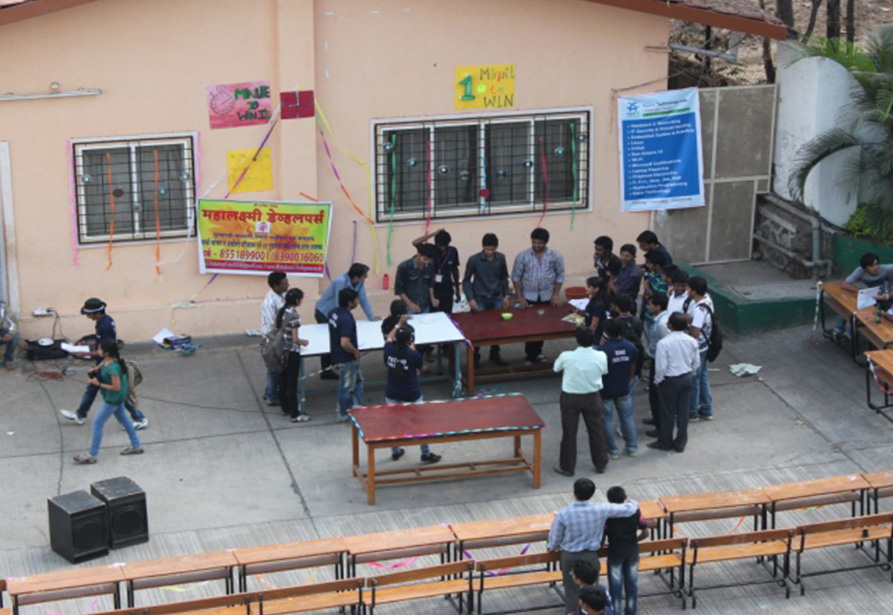 Participants & Spectators
Fourth National Level Symposium "Technoevolution - 2013", was conducted by Sinhgad Institute of Technology & Science, Narhe on 15 – 16 February 2013. It is the yearly Symposium conducted by the Institute in which Technical & Non – Technical events are organized by each department.
The inaugural function of the Symposium was conducted in IT Seminar Hall at 10 am on 15th February 2013. Mr. R.L. Kalyankar, MD Analogic Automation Systems Pvt. Ltd., Narhe, Pune was present as the Chief Guest. Principal Dr. S.N. Mali, Head IT, Prof. T.D. Khadtare & Chief Coordinator of the Symposium, Upasani D.E. were present on dais.

Upasani D.E. were present on dais. The function was started with worshipping of Goddess Saraswati & felicitation of the dignitaries on the dais. The General Secretary of Students Council, Mr. Chinar Sheth, has given the introductory speech.

In his speech, the Chief Coordinator of the Symposium, Upasani D.E. has welcomed all the participants. He explained the Objective of the Symposium & Journey of "Technoevolution" which was started in year 2010. He discussed in detail the Symposium & about the events to be conducted by each department. At last he expressed his gratitude towards the Principal, Heads of the Dept., faculty members & all the students for bringing this event into reality.

In his speech, Principal, Dr. S.N. Mali has admired the efforts taken by Chief Coordinator Upasani, all Heads of the depts., Students Council members & all students for their very rigid efforts to make the Symposium a Big Success The Chief Guest, Mr. R.L. Kalyankar has expressed his views about such Symposiums & emphasized on organization of such events. He explained the importance of Institute – Industry interaction & asked the students to visit the industry & upgrade the knowledge accordingly. He expressed his gratitude towards Principal & Organizing Committee.

The anchoring of the event was done by Miss. Arundhati & Mr. Nayan from IT Dept.

The function was concluded by vote of thanks by Miss. Aurandhati
Number of Participants

Event Name
No. of Paricipants
Paper Presentation
20
Poster Presentation
5
Mega Mind
52
Circuit Designing
11
Crime Sense Investigation (CSI)
66
SMS Freak
36
Electro – Hunt
15
Gadget – IQ
10
Microcontroller Programing
20
Bidding
21
Hot – Pursuit
45
TECHNO EVOLUTION 2K13
Mechanical Department (15th-16th February 2013)
Number of Participants

Event Name
No. of Paricipants
Robotrace
46
Kurukshetra(Robotwar- Light)
8
Kurukshetra(Robotwar- Heavy)
12
G.P.L. Live Cricket
33
Throttle mania
8
Pro-E/Catia& Autocad
37
HeartBeatz
60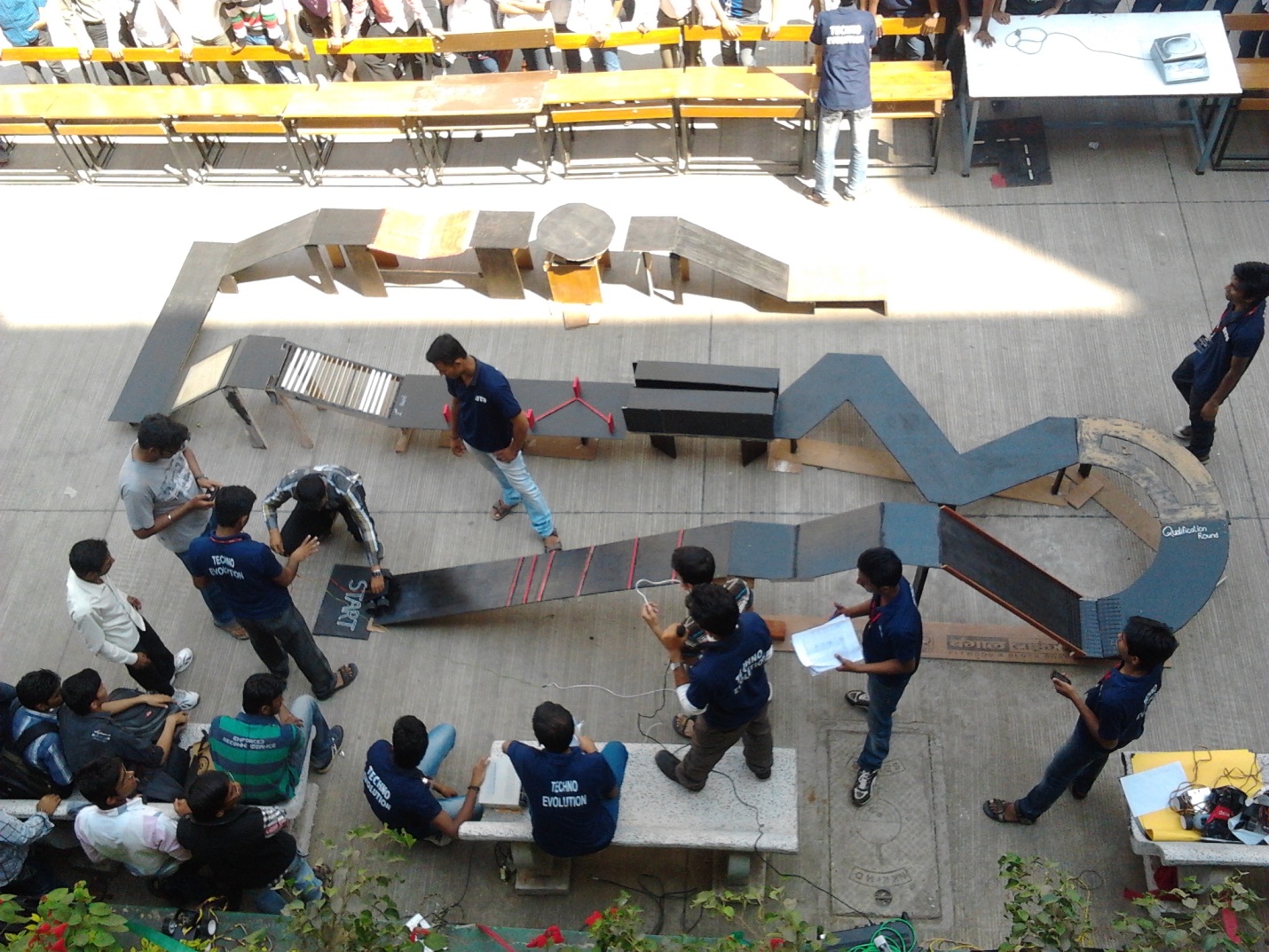 Robotrace
Kurukshetra(Robotwar- Light)
Kurukshetra(Robotwar- Heavy)
G.P.L. Live Cricket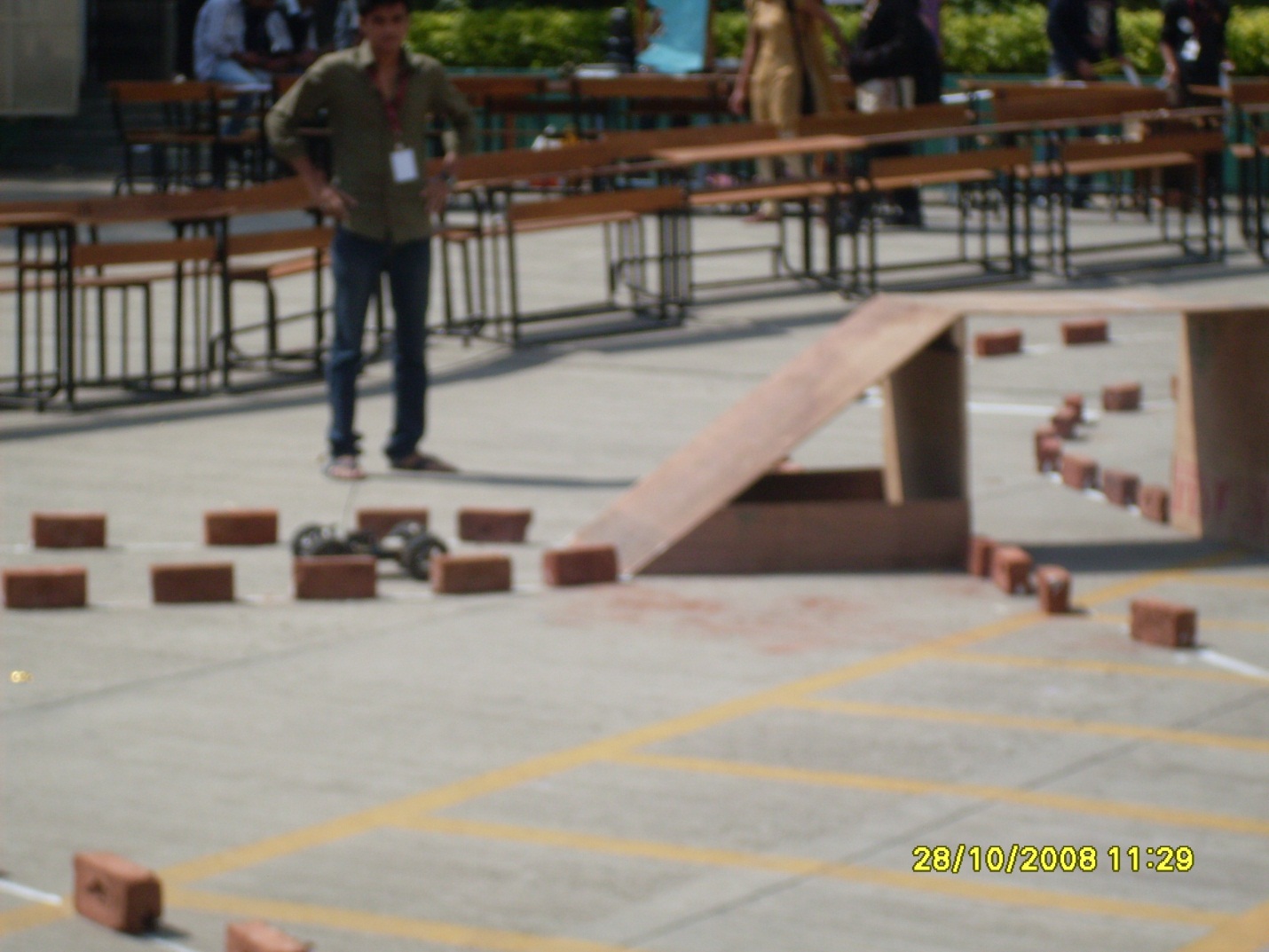 Throttle mania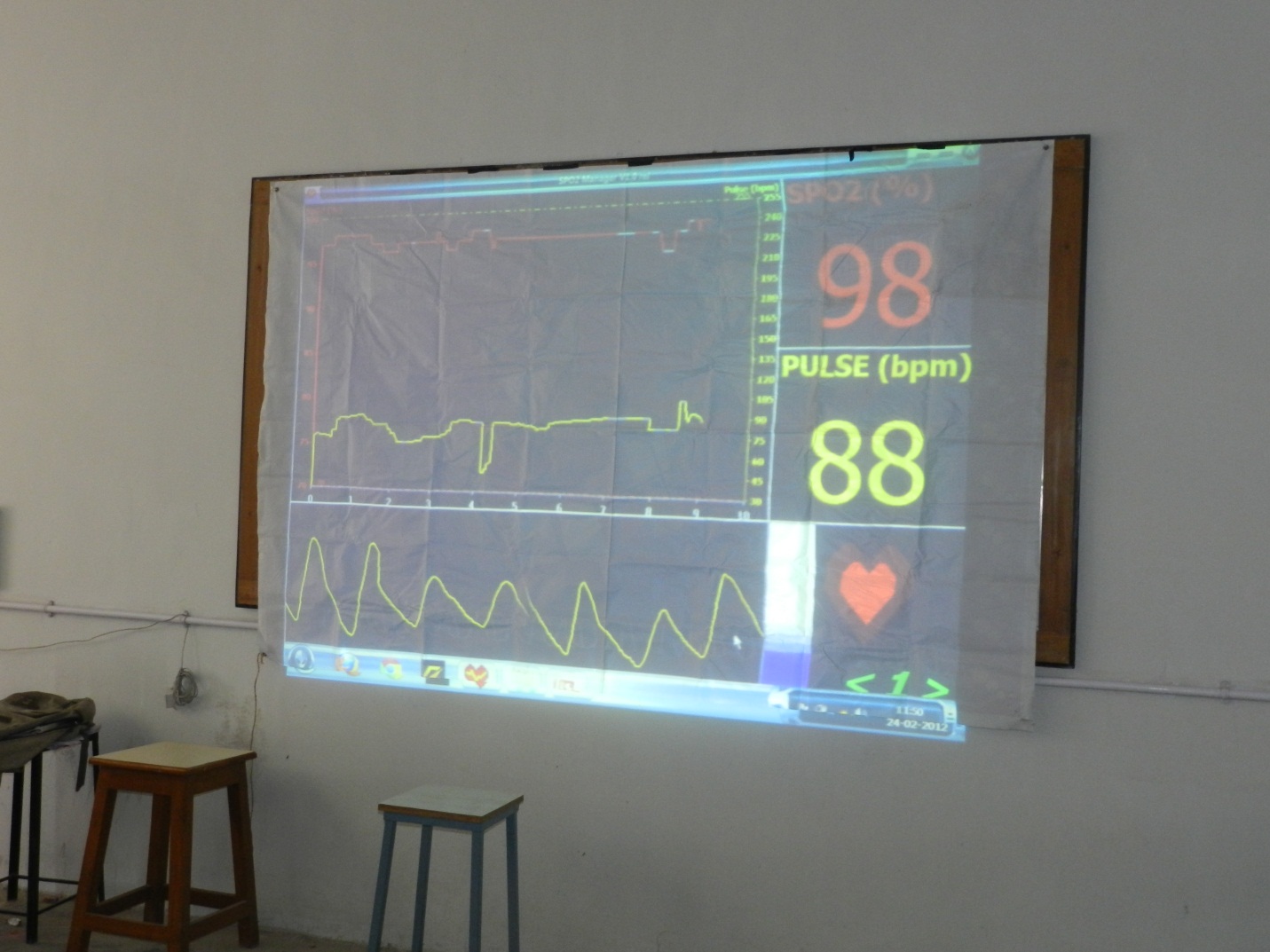 HeartBeatz